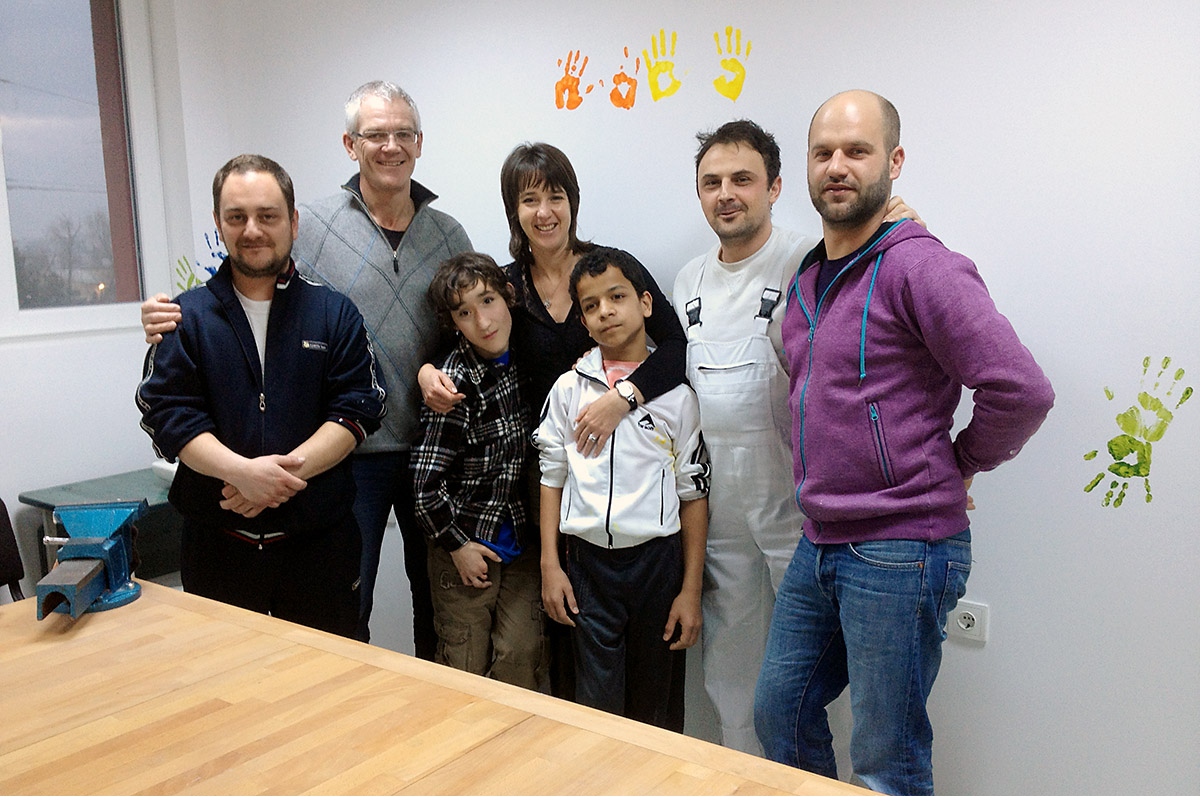 A visit to the company of our Swiss assistant Dimitri and loyal Bulgarian assistant Angel, accompanied this time by Kamen and Netko, two potential candidates for orthopaedic technician training (selected as part of our government-supported training project). As a reminder, this three-year training project for Bulgarian orthopaedic technicians was made possible by the unwavering commitment of Daniela, our principal correspondent in Stara Zagora – through her efforts, we received the sum of approximately 400,000 Leva (CHF 220,000).
We made the most of our time with the staff to discuss in detail the forthcoming trips to Switzerland. The first will be organised in May 2015. The Bulgarian delegation for this trip will include Kamen and Netko, the orthopaedic doctor Dr Gyurov and our two correspondents in Stara Zagora, Daniela and her colleague Katia. Their week-long stay will include visits to various workshops to observe orthopaedic techniques and the manufacture of orthopaedic shoes.
In medical terms, the week – though busy with consultations and prosthesis-fittings – was not unusual. However, we'd like to report on the departure of Geko and Slavi, two of the children that we have been treating and following since the beginning of our commitment in Bulgaria. They have been adopted by an American family and left Bulgaria on 26 January. Geko had a congenital foot deformity, which Dr Fragnière operated on twice, as the foot was becoming difficult to fit into shoes. Over the course of six years of medical orthopaedic treatment, our team created a series of orthopaedic prostheses to complement the surgery. The child's foot was in good shape on the day of his departure, and we are delighted with his level of social integration. The fact that Geko no longer has any visible medical problems has certainly facilitated his adoption. The same goes for Slavi, a hemiplegic boy who wore a lower leg orthosis to assist movement during six years of treatment. The foundation manufactured the orthosis for him, obviating the need for him to undergo the operation recommended by several Bulgarian doctors at the time.
A final noteworthy event was our collaboration with Dr Evgeni Vlaev at the Tokuda hospital in Sofia. This partnership will enable us to begin surgical activity in due course. Dr Vlaev spent an afternoon in consultation with Dr Fragnière in Sofia on 22 January. During our next trip in March, we will jointly examine two children to plan surgical treatment, which will begin in the summer of 2015.
Our next visit will take place from 17 to 22 March 2015.