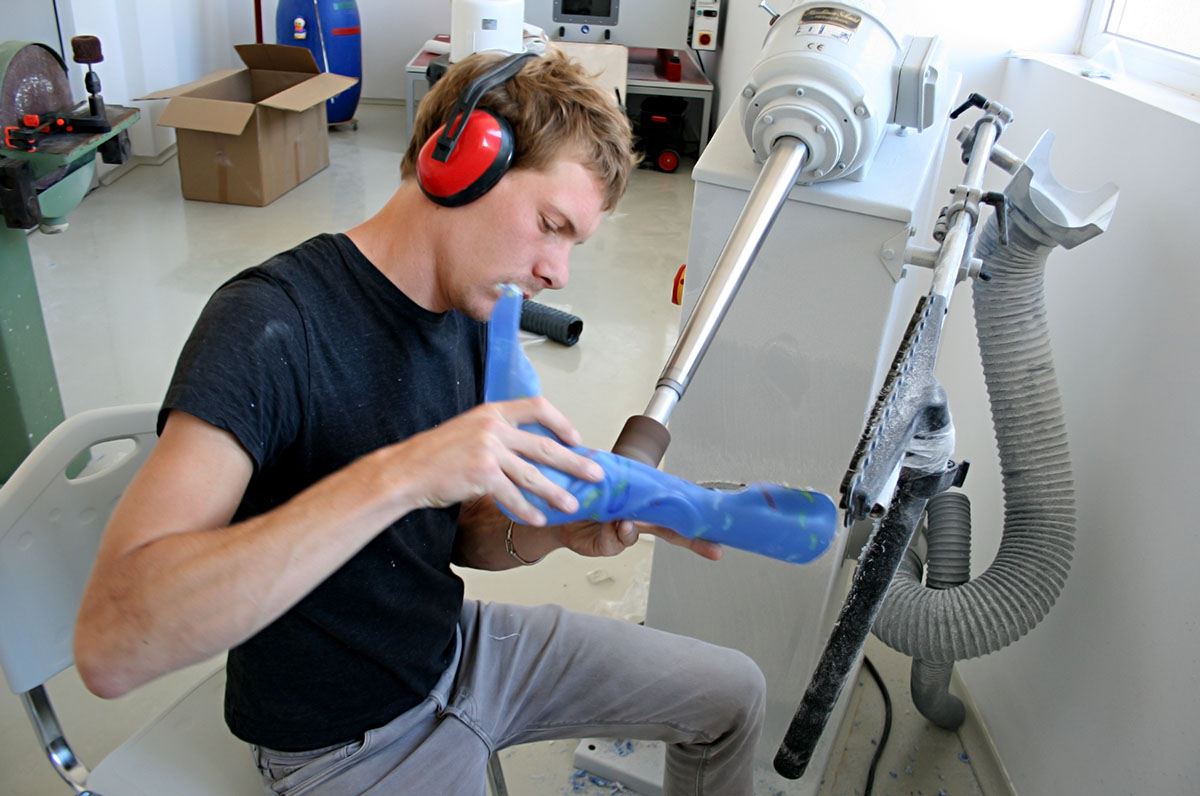 This week, Dimitri came to Bulgaria to represent the technical orthopaedic team. As usual, he was able to work with Angel, our Bulgarian candidate, who is continuing to perfect his autonomy and skill in making walking orthoses. Dimitri also found time to redo Geko's orthoprosthesis, which had reached the end of its lifespan. It was a busy, active week with more than 60 children examined and/or treated; the waiting list continues to increase as unfortunately we are unable to fulfil all the requests from parents who want us to examine their children. Manuela manages this list faultlessly in order to try to prioritise the children who would benefit from orthopaedic care as quickly as possible.
Manuela and Bruno also met Dr Vassil Yablanski, head of the orthopaedic department at Tokuda Hospital Sofia, who gave them a very warm welcome. He was interested in hearing about our work in Bulgaria and is keen on a form of collaboration with us. The meeting was so exciting that we were immediately introduced to Dr Evgeni Vlaev, one of his colleagues in the orthopaedic department who has an interest in paediatric orthopaedics and neuro-orthopaedics. Dr Vlaev not only attended our meeting but also joined Bruno and Manuela the next day for the morning's consultations in order to see the children. The interest that he showed in our work by his presence was very encouraging and bodes well for an effective collaboration in the long term. Tokuda Hospital has an excellent reputation in Sofia and benefits from the latest technical facilities in the areas of anaesthesiology, surgery and cardiology. Dr Yablanski has been able to develop his expertise in scoliosis surgery with the help of an American team from the SRS (Scoliosis Research Society) over a period of more than four years, yielding excellent results.
The possibility of collaboration with a team of doctors who specialise in paediatric orthopaedics in Bulgaria is certainly the key to the sustainability of our work in Bulgaria. We will therefore build on our relationship during our forthcoming stays in order to establish an indispensable, long-term collaboration.
Other good news concerns the competition the Foundation won thanks to Daniela's support (Daniela is our regular correspondent in Stara Zagora). We are now able to benefit from funding of 400,000 Lev (approx. CHF 240,000) over the next four years as part of a cooperation project with the Community Donation Fund Stara Zagora Foundation. The aim of this collaboration is to set up a Bulgarian-Swiss orthopaedic workshop in order to combat the economic and social disparities within the 'enlarged' European Union.